The concept of the Iris came from conversations with our community. Our supporters said that circle drawing tools lacked innovation and were difficult to use. These tools were unreliable and short-lived. So, we set out to completely redesign the circle drawing tool.
As amateur photographers, we noticed that camera apertures were reliable mechanisms and were surprised that they had not yet been developed for other purposes. In response to this observation, we designed an instrument that brings the quality of the camera aperture to your desk.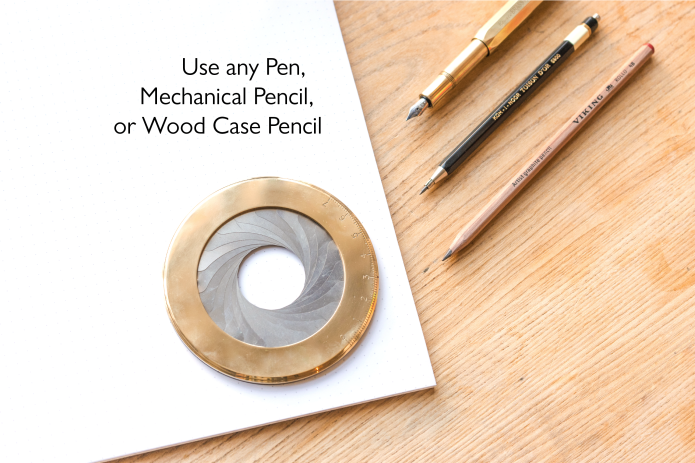 Benifits:
The mechanism of the camera aperture has endured 200 years of photographic history. Owing to this resilience, the Iris is the perfect replacement to the inadequate rotary drawing compass.
Rotary compasses are:
Difficult to hold
Useless without a ruler
Restricted to certain mark-making tools
Immortalized by the holes in our pages

This is:

Easy to use
Compatible with any mark-making tool
An accurate measuring instrument
Seamless on your page

At Makers Cabinet, we strive to create objects with a guarantee of longevity and durability. Iris is the product of this ethos.

Our first wooden base prototype was intended to simply support the Iris on your desk. However, we design every tool with the intention to be both beautiful and functional.  
Notice:
Due to the large volume of transactions, this product may be delayed in delivery. Sorry for the inconvenience caused and thank you again for your presence and patronage.